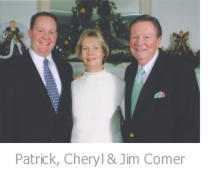 April, 2017 - Each year, the annual Saint John's Gala celebrates the founding of Saint Johnís High School and pays tribute to the Xaverian Brothers, lay faculty, staff and the generations of Saint Johnís alumni and the parents whose dedication and sacrifice have made Saint Johnís the prominent school that it is today.
The 15th Annual Saint Johnís High School Gala brought 500 alumni, families and friends together to celebrate the people and values that make Saint Johnís High School unique.
Few couples embody the mission of Saint Johnís High School like Jim & Cheryl Comer. Their Foundation, The Patrick Comer Courage Foundation, grants two partial restricted aid scholarships each year to Saint Johnís students who are graduates of the Nativity School of Worcester. Through its generosity deserving students of modest means are afforded the blessing and opportunity of a Saint Johnís education. The Foundation was created in 2008 to honor the life and legacy of their son Patrick (í90), who passed away from pancreatic cancer in 2008 at age 36.
For more information, please visit the Saint Johnís website stjohnshigh.org.
Did you know that pancreatic cancer ranks just 11th in National Cancer Institute spending despite being the 4th leading cause of cancer death? Each year, more than 37,000 Americans are diagnosed with pancreatic cancer; more than 33,000 die, making pancreatic cancer more deadly than prostate and close to breast cancer. The five year survival is less than 5 percent.
Know the signs... Pancreatic cancer is silent and sneaky. There are no early detection methods. Here are some of the risk factors and symptoms:
Family history of pancreatic cancer
Lack of appetite, sudden weight loss
Sudden onset diabetes or a sudden change in blood sugar control in diabetes
Change of color in urine or stool
Indigestion, nausea, vomiting
Abdominal/Back pain
Chronic pancreatitis
Jaundice
Fatigue
To learn more about this specific type of cancer, and to learn how you can become more involved in helping to fight it, contact the Pancreatic Cancer Alliance.


Recent News:



06/02/17 - In June of 2017, the Patrick Comer Courage Foundation made its second quarter grant to the 15-40 Connection.

> Q2-2017: 15-40 Connection


03/15/17 - In March of 2017, the Patrick Comer Courage Foundation made its first quarter grant to the Jupiter Medical Center Foundation.

> Q1-2017: Jupiter Med Center


12/01/16 - In December 2016, the Patrick Comer Courage Foundation made a donation to the Pancreatic Cancer Alliance UMMF.

> Q4-2016: PCA - UMass Med


11/02/16 - As 2016 comes to a close, we hope you will continue to support the Patrick Comer Courage Foundation with a tax deductible donation.

> 2016 Appeal Letter




08/01/16 - In August of 2016, the Patrick Comer Courage Foundation made its annual grant to Saint Johnís High School in Shrewsbury, Massachusetts.

> Q3-2016: Saint John's

News Archives...