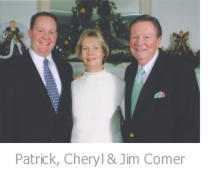 January, 2016 - Dear Friends of the Patrick Comer Courage Foundation:

For those that were able to respond to our 2015 Appeal with a charitable donation, we sincerely thank you. The Patrick Comer Courage Foundation would not be able to extend a helping hand to those in need without your generous support.
Your donations will be put towards our 2016 grants, which will directly aid in the personal care, medical research and scholarly pursuits that we have continued to support since our inception.

We wish you the best in 2016 and most importantly, good health. Health is wealth.

-- Jim Comer, President, Patrick Comer Courage Foundation

Become Aware of the Dangers of Pancreatic Cancer

Did you know that pancreatic cancer ranks just 11th in National Cancer Institute spending despite being the 4th leading cause of cancer death? Each year, more than 37,000 Americans are diagnosed with pancreatic cancer; more than 33,000 die, making pancreatic cancer more deadly than prostate and close to breast cancer. The five year survival is less than 5 percent.
Know the signs... Pancreatic cancer is silent and sneaky. There are no early detection methods. Here are some of the risk factors and symptoms:
Family history of pancreatic cancer
Lack of appetite, sudden weight loss
Sudden onset diabetes or a sudden change in blood sugar control in diabetes
Change of color in urine or stool
Indigestion, nausea, vomiting
Abdominal/Back pain
Chronic pancreatitis
Jaundice
Fatigue
To learn more about this specific type of cancer, and to learn how you can become more involved in helping to fight it, contact the Pancreatic Cancer Alliance.


Recent News:



01/15/16 - In January of 2016, the Patrick Comer Courage Foundation made its first quarter grant to the Dana-Farber Cancer Institute in memory of Sarah J. Sadowski.

> Q1-2016: Dana-Farber


12/01/15 - In December 2015, the Patrick Comer Courage Foundation made a donation to the Pancreatic Cancer Alliance in support of the University of Massachusetts Medical School Research Center.

> Q4-2015: PCA - UMass Med


11/02/15 - As 2015 comes to a close, we hope you will continue to support the Patrick Comer Courage Foundation with a tax deductible donation.

> 2015 Appeal Letter




08/01/15 - In August of 2015, the Patrick Comer Courage Foundation made its annual grant to Saint Johnís High School in Shrewsbury, Massachusetts.

> Q3-2015: Saint John's


06/01/15 - In June of 2015, the Patrick Comer Courage Foundation made its annual grant to the 15-40 Connection to fulfill our awareness mission.

> Q2-2015: 15-40 Foundation

News Archives...